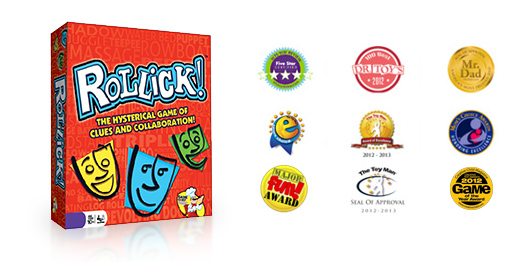 The Hysterical Game of Clues and Collaboration
Ages: 13+
Players: 6+
Learned in: 2 minutes
Stock: #8283
Suggested Retail: $24.99
ROLLICK! is a hit party game that's a fast and furious team competition.
With ROLLICK!, the entire team works together to act out clues for one or more players to guess. It's a hysterical, fun, fast-paced, team charades competition games that's an absolute riot at parties, family gatherings, work events, holiday celebrations, with friends, and even loved by teenagers!
With over 750 clues, including words for younger children, suggestions for large and small groups, and other fun variations, no game is ever the same! For hours of hysterical fun – the choice is ROLLICK!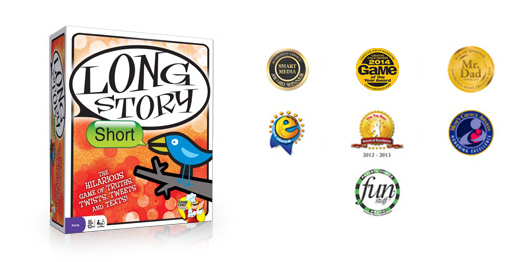 The Hilarious Game of Truths, Twists, Tweets and Text
Ages: 13+
Players: 4~8
Learned in: 5 minutes
Stock: #5374
Suggested Retail: $24.99
Long Story Short is a hit party game that mixes social media with the time-tested fun of storytelling.
Each round, the Storyteller shares an experience or story with the group using the fun story starters. The storyteller tells a story that is either true or false. Players then make the long story short by creating a headline, drawing a picture, writing a text, or crafting a tweet for the story told. Players compete for the best short story. Long Story Short will have everyone ROTFL for hours. LOL! #fungame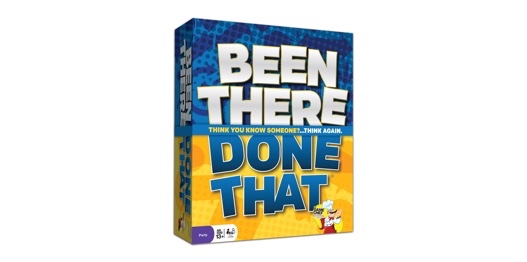 Think You Know Someone?… Think Again.
Ages: 13+
Players: 4~12
Learned in: 2 minutes
Played for: 20-30 minutes
Stock: #9564
Suggested Retail: $24.99
Milked a Cow? Traveled To Europe? Missed a Flight? Been to Disney World? Find out the answers in this hit party game. From the outrageous places traveled to the basic things people do every day, you'll be amazed by the things you learn. This easy-to-play game is a great ice breaker for groups of new friends and a must have at every family game night. With over 800 scenarios, be prepared for hours of fun!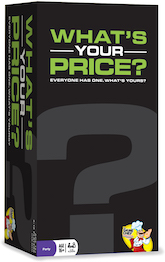 Everyone has one. What's yours?
Ages: 16+
Stock: #5312
Players: 4-10
Suggested Retail: $24.99
What's Your Price? is a hit party game where you guess how much it would take for a player to do a scenario. Such as: "What's your price to...Tickle the person in front of you in line at the grocery store?" or "What's your prices to... "Use the word "literally" in literally every conversations"? or "What's your price to...spend a day at a nude beach with your parents?" All scenarios lead to fun conversations and great discussion. Each round, one player is asked a scenario. All the other players try to guess how much it would take for that player to do the scenario. Players score points by guessing the player's "price" to do a particular scenario.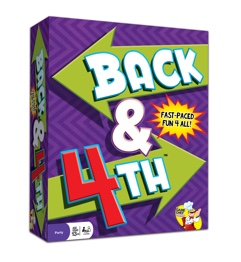 Fast-Paced Fun 4 All!
Ages: 13+
Players: 4+
Stock: #6433
Suggested Retail: $24.99
Back & 4th is a fast-paced party game that's fun for everyone! It's perfect for a family game night or parties with a group of friends.
Players give clues to their teammates to help them guess the category. For Example: If the category listed on the card says, "Things That Are Red", the Clue-Giver could say: "apples," "a ripe tomato," "Santa's suit," "Rudolph's nose," etc. Play continues furiously Back & 4th until one team's time runs out. The team whose time ran out first loses the round. The first team to win 4 rounds wins the game.
Game include 560 Categories on 280 Cards, 2 Game Pieces, Game Board, 2 Sand Timers/Free App Timer, Rules.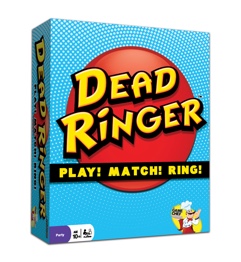 Play-Match-Ring
Ages: 10+
Players: 4+
Stock: #6644
Suggested Retail: $24.99
Find out if your minds are in sync. Players try and match the Ringleader's answers to the categories to score points. Be the first to ring the bell and score bonus points!
Players score points by matching the Ringleader. The player with the most points at the end of the game wins! It's that simple and so much fun!
The categories and Ringleader are always changing, so no round is ever the same making it perfect for a family game night or a party with new friends.
Game includes 336 categories on 168 cards, score sheets, Dead Ringer bell, 30-second timer, rules.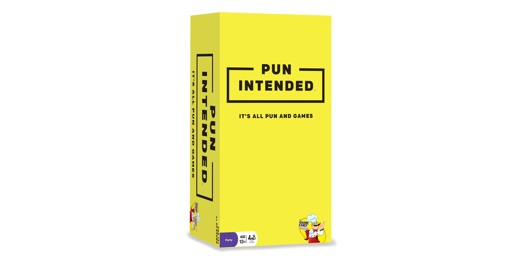 It's all PUN and Games
Ages: 13+
Players: 4+
Stock: #6457
Suggested Retail: $24.99
Why did we make a game about puns? Because fun is our res-pun-sibility. Pun Intended is for pun-loving people everywhere! Just like the vandals who destroyed the road signs, we pulled out all the stops.
Pun Intended contains over 1,300 puns, a 1-minute timer, and a scorepad. Use a good, sharp pencil, because trying to write with a broken pencil is pointless.
We all know people who love puns and think they are soooo punny. They're like German sausages – the wurst! But look, some people like puns and other people like pickles, so just dill with it!
Teams have 1 minute to solve 6 puns that all start with the same letter and score points for each correct pun. The first team to 30 points wins! If you're an astronaut and don't like puns, please accept our Apollo-gees!
These puns are silly, witty, clever, painful at times, and sometimes downright stupid. It's side-splitting, bust-a-gut, crack-up, unforgettable fun. In fact, a pony that recently played laughed so hard it became a little horse!
Unlike the man addicted to brake fluid who said he could stop at any time, you won't be able to. Invite your friends and family over tonight. After playing a few rounds, you will become a pun lover too!
P.S. We entered ten puns into a contest to see if any would win, but no pun in ten did!
Game includes 1320 puns on 220 cards, scorepad, pencil, 1-minute timer, rules.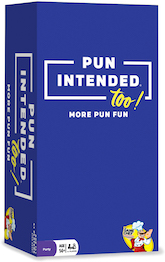 It's all PUN and Games
Ages: 14+
Stock: #8307
Players: 4+
Suggested Retail: $24.99
Pun Intended Too contains 1,200 puns, a 1-minute timer, a pencil, and a scorepad. Teams have 1 minute to guess 6 puns that all start with the same letter and score 1 point for each correct guess. The puns get harder as you work your way down each card. The other team can steal puns that your team doesn't guess, but don't be like the man who suffered a groin injury and get testy if you can't answer them all. Play in teams or as individuals. It's like having every dad joke and funny pun in one game. It's even fun to sit around in a group and read the puns. What are you waiting for? It's a great gift for the pun-lover in your life.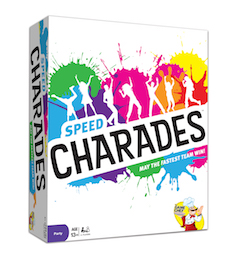 May the fastest team win!
Ages: 13+
Players: 6+
Stock: #8291
Suggested Retail: $24.99
Speed Charades is a fun twist on a family favorite. It's a fast-past, fiercely fun party game that will keep everyone involved and interacting with each other. Team compete head-to-head in a race to act out the words on their cards. The first team to guess 4 of the 5 clues on their card wins the round and scores a point. The team with the most points after ten rounds wins!
It's ideal for groups because it allows everyone regardless of age to participate. Divide into teams – guys vs girls, adults vs teens, blondes vs brunettes, family vs family, etc. – and let the fun begin.
The game includes 280 cards, 1,400 clues, rules, scorepad and a pencil. Variations include: 5 for 5, Tag-Team Charades, Large Groups (12+), and Involving Younger Players. Speed Charades is the game every party or game night needs.